Because we care about
our planet!
While many merely think "Green", we've been doing
our share for many years. From recycling to using
'Environmentally friendly' materials and the use of recycled paper,
Advance Printing has been doing more than their share to keep
"Mother Nature" happy.
We recycle!
We've been recycling from day one. The entire workflow at Advance Printing is committed to sustainability. Whether is it the simple process of recycling paper, using environmentally friendly material or disposing of chemicals in a responsible manner. We have an extensive recycling program in place - including responsible disposal of all paper, plastic (water bottles, skid wrap, shrink wrap, plastic banding), skids, metal banding and pop cans, ink cans, ink and toner cartridges. Even the chemistry from Advance Printing is recycled. Waste press chemistry is shipped offsite by a licensed waste carrier and is processed and used for one of two things: 1) Creating a waste-derived fuel, which preserves the use of virgin fuels or, 2) It is sent to a lubricant recycling program
Direct-to-plate
Advance Printing was one of the first companies to use the "direct-to-plate" method which eliminates the need for film and some of the more hazardous chemicals of the past. Our equipment and plate production methods also mean a drastic reduction in power consumption, chemistry and the use of water.
Safe printing inks
Advance Printing uses soy based inks that are low in VOC's (Volatile Organic Compounds) and maximizes the use of renewable resources such as linseed oil.
Electricity Retrofit Incentive Program
Lori Broomfield, Director of Corporate Services at Advance Printing, accepts an award and cheque from a representative of Brant County Power. All the lighting in the building was replaced with energy efficient units as part of ERIP, the Electricity Retrofit Incentive Program. As a result of these changes, Advance Printing is expected to use substantially less energy, thereby reducing their carbon footprint.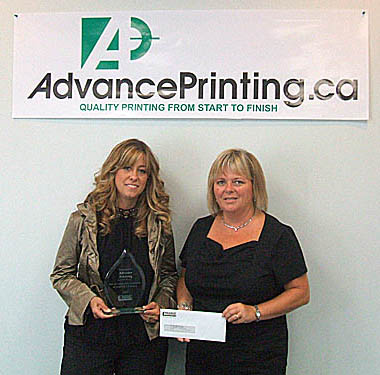 The bottom line
We take great care in making sure our business is as 'Green' as possible which results not only helping Mother Nature, but also knowing that our clients can rest assured their finished product is part of the solution. In short, "We all win!"